Connie Gutierrez, Academic Partnerships Program Specialist
December 6, 2017
---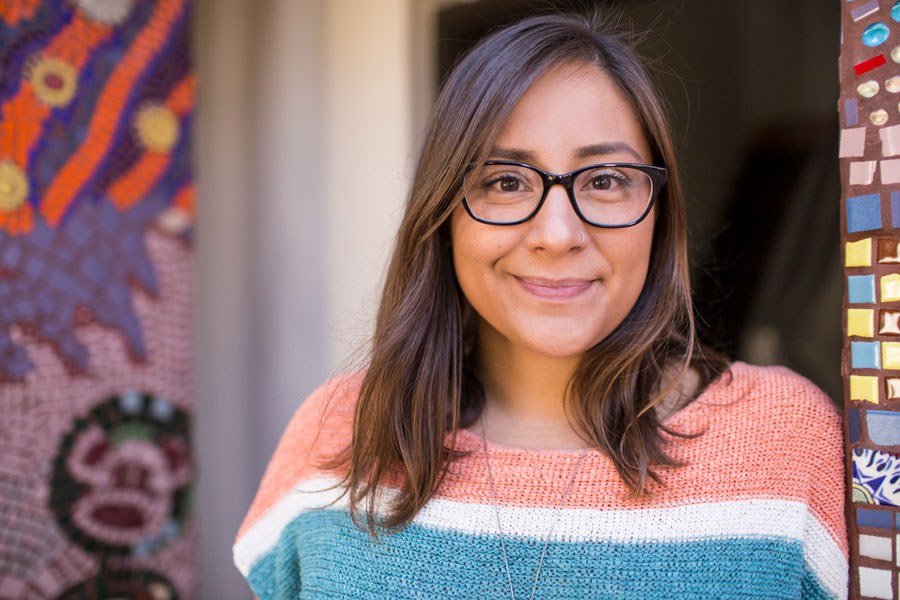 Name: Connie Gutierrez
Position: Academic Partnerships Program Specialist
How would your teammates describe you? What about your friends?
My team nickname is Sherlock, so I guess my team thinks of me as someone who's willing to go down the rabbit hole – "Ask Connie, she'll figure it out." I think they'd also describe me as super inclusive and approachable.
My friends would probably call me a chameleon. I love being whatever they need me to in the moment – party host, wing-woman, sounding board.
Is there anything you wish would come back into fashion?
Baggy overalls. Oh my gosh, Baggy overalls need to make a comeback. They have so many great pockets – they're perfect for gardening! I especially loved them in high school. Every summer, I'd cut them into capris and sow patterned material into the pocket lining and cuffs. Chic, for sure.
What important message would you pass on to your younger self?
"Sí se puede." ("Yes We Can.")
It's short and sweet, but it really speaks to the power of what you can achieve – especially with a team behind you. To quote our very own Jen Lee "team work truly does make the dream work". The possibilities are endless when you have the support of a great team, you don't have to do everything yourself. I'm really learning that here at TTD.
Being in PeopleOps, what would you say is your favorite part about working at The Trade Desk?

I'm stoked about this new role as a People Program Specialist, I get to be super creative while connecting with and understanding employee needs across the company, the objective is to help cultivate an awesome, out-of-this-world employee experience. I'm happy to help in any way I can and this allows me to spend time with teams I love and enjoy, this will help in creating proactive programs at The Trade Desk to enhance the employee experience and life workplace balance.
To be honest, I've never worked at a company where HR or PeopleOps was privy to the "fun stuff" or where an initiative around workplace culture was truly supported by the leadership. Unlike most companies, The Trade Desk's culture has remained a crucial priority across the board even after going public and while there's still so much to do. We're only 2% done, our CEO, Jeff Green, gifts the ownership of our team culture to the employee population, and we have all really taken that to heart. In fact, one of my favorite quotes from Jeff is: "We are a technology company whose greatest asset is its people." And it's true. We thrive on this message in PeopleOps, the employees who power TTD are our essence.
Now that The Trade Desk has a campus in Ventura, how does the People Ops team ensure both offices feel just as close as they did when there was only one Ventura location?
Cross-pollination is a major theme of The Trade Desk's culture company wide, and one we in People Ops try to encourage, especially now in Ventura with two offices. When we made the move into two buildings, partnering with office management we began giving people reasons to move frequently from office to office. Comfy temporary workspaces can be found in both offices, People Ops, specifically, tries to work across both buildings. I work in the 101 building on Tuesdays.
We alternate lunches in both buildings; schedule Friday activities and invite people from both offices to come hang out as often as possible. Organically, new groups and social events are being shared between buildings as well. We hope to help organize the new happenings and encourage new additions. Such as Ventura's #TTDgives, which takes the guess work out of how to give back to the community locally in Ventura or monthly Yoga sessions in the park.