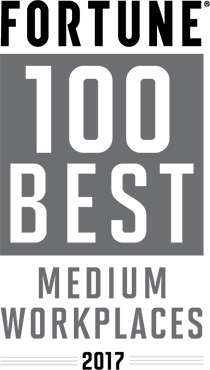 FORTUNE 100 Best Medium Workplaces 2017
The Trade Desk debuted as #11 on the FORTUNE 100 Best Medium Workplaces, a ranking of top employment environments with between 100 and 999 employees. Best Medium Workplaces rankings are based on surveys conducted by FORTUNE partner Great Place to Work™. This ranking considered 74,000 surveys from employees at hundreds of businesses in all sectors of the economy.

Great Place to Work's The Trade Desk survey found that 96 percent of the company's employees agree that their workplace is great.
From FORTUNE, November 1, 2017. ©2017 Time Inc. Used under license. FORTUNE and Time Inc. are not affiliated with, and do not endorse products or services of, The Trade Desk.