The New Trading Floor: How Advertising Came to Look More Like Wall Street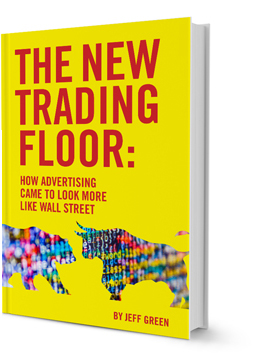 What can the advertising world learn from the financial markets?
Jeff Green, founder and CEO of The Trade Desk, built one of the world's first online ad exchanges before it was acquired in the ad-tech gold rush of 2007. When he ventured out again a few short years later, everyone from Saudi sheikhs to startup millionaires invested. In his upcoming book, Green lays out what the $640B global advertising industry can learn from Wall Street's evolution into digital.

"Now that you're able to enjoy the fruits of the digital era, we might strain to remember it being any other way: You stream to your own personal radio station into your earbuds during your commute in the morning, you order lunch off an app before you skip the line to pick it up, you hail your own personal black car on the way to happy hour, and sit down late in the evening to watch your own personal primetime lineup of shows that premiered 20 years ago. Every element of media you consume is uniquely yours, accessed on the device of your choosing, at the time of your choosing, in the quantity you've chosen.
When the NASDAQ opened in 1971, it was the first electronic stock exchange. It's easy to imagine traders in the pit expressing skepticism that their days of waving paper would ever expire. But the "stock exchange for the next 100 years" was the first among its peers in the US to begin trading online in the 1990s, and the days of open outcry are behind us. It is in this way that you'll see the sunset of the old ways of buying ads – whether through handshake or even digital blanket buys and run-of-site – and see the rise of the new trading floor. This is how marketing came to look more like Wall Street."
---
For updates on The New Trading Floor: How Advertising Came to Look More Like Wall Street, please fill out the form below.