Trends
On the Scene: The Trade Desk's Connected Upfronts Breakfast
The television industry is at the forefront of a monumental shift in TV consumption habits. Audiences are enjoying more choice in how they watch TV than ever before, made evident by the fact that more than half of U.S. broadband households stream CTV – and it's a number that's only growing. For ad buyers, this shift to streaming means more data, better viewer experiences, and ultimately higher ROI.
Two weeks ago, The Trade Desk hosted a breakfast panel focused on discussing the Connected Upfronts, moderated by Anthony Ha, Senior Writer at TechCrunch, and featuring leaders from across the TV industry including:
Bennett Crumbling - Director,

TV

at The Trade Desk
Lauri Baker -

SVP

&

Head of Digital Ad Sales

&

Solutions at Discovery
Doug Fleming - Head of Advanced

TV

at Hulu
Daniel Callahan -

VP

, Programmatic Sales at Fox
Jason DeMarco -

VP

, Programmatic

&

Audience Solutions at A&E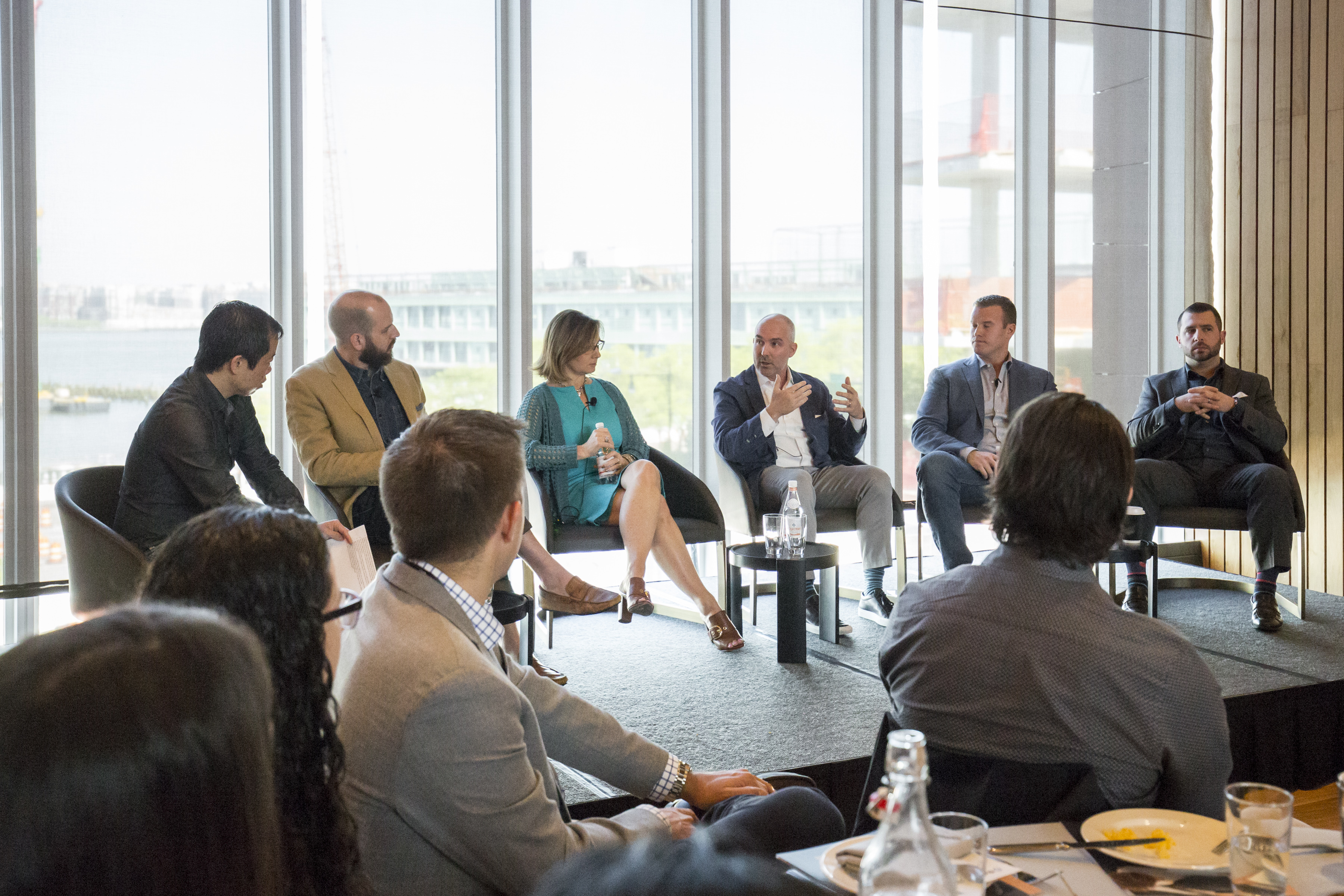 Throughout the discussion, several reoccurring themes emerged – we included what we believe were the top three takeaways below.
Key Takeaways:
1. The need for standardization across the CTV ecosystem
The biggest opportunity facing the CTV ecosystem is improved standardization. There's no question that CTV represents the merging of the best of digital and the best of TV, and partner collaboration and data consolidation are key to reaching its full potential. By working toward creating an overarching, agreed upon device ID for all CTV devices, advertisers will be able to unlock the real promise of CTV, delivering amazing targeting capabilities and better TV advertising across the board.
2. The value of buying CTV on an impression-by-impression basis
There was no shortage of excitement around the undeniable value that CTV offers advertisers and publishers alike. The impression-by-impression based buying model improves advertising across the supply chain in a number of ways:
Buy-Side Efficiency: Because of its advanced targeting capabilities,

CTV

allows advertisers to ensure they're reaching the right person in the right households. The result is waste reduction, as advertisers target those audiences most likely to engage.
Premium Publisher Validation: Publishers creating and offering premium digital content will get value for their content offering. Since

CTV

enables advertisers to buy efficiency and using a very controlled data measure, premium publishers will rise above the fray, siphoning out the bad, fraudulent actors.
Better Consumer Experiences: With the ability to control the frequency of ads delivered for every individual consumer,

CTV

powers better viewing experiences for the end-audience.
3. The importance of working closely with your tech and media partners
As advertisers begin to shift ad dollars into programmatic, it is important to work more closely with tech and media partners. Consider the three-prong approach: advertisers first develop their audience and campaign strategy and then work with their agency and technology partners to further develop and refine that strategy based on the insights and recommendations gained through programmatic. This approach fuels efficiency in campaigns by investing in the areas that are working and removing the elements that are not.

Want more? Stay tuned for the full recap video in the next couple of weeks. Or check out these blog posts (here, here and here) for tips on incorporating CTV into your strategy.